Chronicles 2018: Post-Reformation

The tag line for Chronicles is "why Christian history matters," because, well, Christian history does matter. There appears to be woeful ignorance and under-appreciation for the men and women who have gone on before us. These men and women have been part of a movement here, a development there, and have lived their lives (and given them, too), for the sake of the Gospel.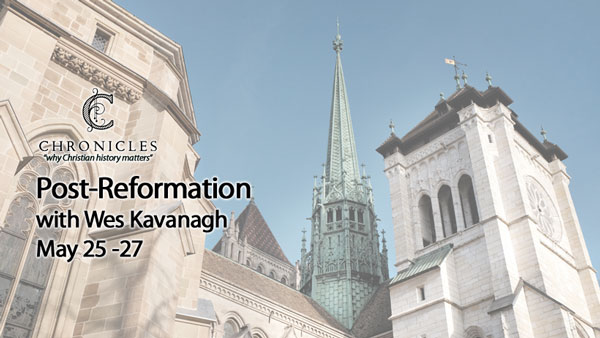 THE DETAILS
Dates: May 26 - 28, 2017
Topic: Post-Reformation
Speaker: Wes Kavanagh
Location: Salem Acres Bible Camp, near Elnora AB
Cost: $170.00* per person ($175 paid online)
Audience: youth and adults
Register by: May 11
*If this fee is unaffordable, please contact us for more information.
This weekend seminar runs from Friday evening through Sunday noon. It starts with a session at 7:30 pm Friday evening and ends with lunch at 12:30 pm on Sunday. Your fee includes accommodations, meals and snacks, printed notes, and a speaker honorarium. A more detailed schedule will be available on registration.
WHAT TO BRING
Your own bedding (sleeping bag, pillow, and towel)
Your own personal items, including a Bible and writing implements
An outdoor playing field is available for volleyball and other sports.
We will provide outline notes from the speaker.